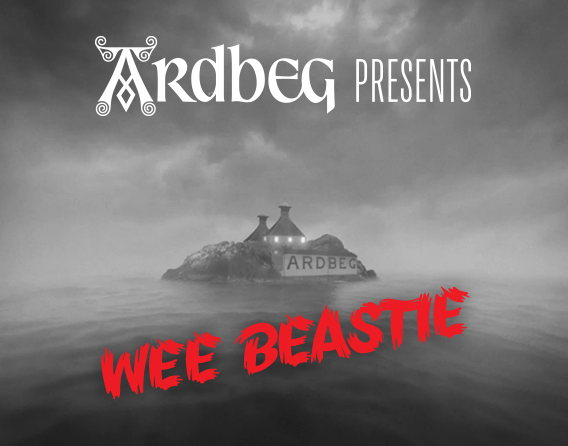 ISLAY, UK - 26 March 2020

ARDBEG WEE BEASTIE - THE DISTILLERY'S LATEST SMOKY WHISKY IS WREAKING FLAVOUR IN ITS PATH

From April of this year, whisky lovers around the world will get the chance to experience the latest permanent expression to join the Ardbeg core range - Ardbeg Wee Beastie. And at just 5 years old, this feisty and intensely powerful smoky whisky is untamed by age.

From elusive sea creatures to eerie hillside half-breeds, the Ardbeg Distillery has a history of exploring inexplicable legends in their bottlings. However, their next unearthly expression is said to have emerged from the peat bogs of Islay themselves. Ardbeg Wee Beastie has been described as a 'monster of a dram'... with a formidable bite.

Matured in ex-bourbon and Oloroso sherry casks, Wee Beastie bristles with intense aromas of cracked black pepper, sappy pine resin and sharp tangs of smoke. An explosive mouthfeel bursts forth with chocolate, creosote and tar. As savoury meats sink into the palate, the long salty mouth coating finish slinks away.

Ardbeg's Director of Whisky Creation, Dr Bill Lumsden, said: "I'm in no doubt that Ardbeggians will love this tongue-tingling expression. The casks chosen for its creation make it ideal for enjoying neat or as the mouth-watering main ingredient in a powerfully smoky cocktail."

Mickey Heads, Ardbeg Distillery Manager, said: "A new permanent expression in the core range is always momentous for the Distillery, but Wee Beastie is a particularly special dram. As it's a younger whisky, it means we're able to get as close to the still as possible. So it's safe to say this is a ferociously good wee nip!"


Tasting Notes:

Colour: Bright Auric

Nose: Very bright, fresh and herbal, with hints of vanilla, pear, freshly cracked black pepper, honey-glazed ham. Rich Turkish coffee, sappy pine resin. With water, more herbal top notes like vetiver and fennel, along with aniseed, green apple and leather.

Taste: A rich, explosive mouthfeel with lots of chocolate, tar, creosote and smoked bacon, followed by a burst of antiseptic lozenges, eucalyptus and more aniseed.

Finish: A long, salty and mouthcoating finish with hints of cocoa, fudge and savoury meats.

Casks: Ex-bourbon and Oloroso sherry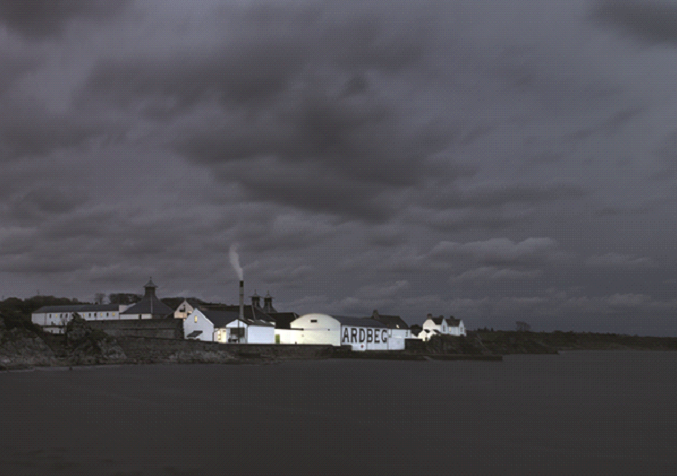 ISLAY, UK - 18 March 2020

Dear Committee Members,

I'm sure this news won't come as a surprise to any of you. But it is still with a heavy heart that I have to announce that, due to COVID-19, our Ardbeg Day celebrations here on Islay, and the wider Feis Ile festival, are cancelled.

We were so looking forward to celebrating the Committee's 20th anniversary with you this year, but I hope you understand that our priority must be to protect the health and wellbeing of our staff, neighbours and guests. I am therefore confident that this is the right and responsible decision.

Of course, while we are keeping a physical distance, I hope we can all stay connected on social media. If ever there was a group of people who know how to keep their spirits up, it is our ever-passionate, ever-loyal Ardbeg Committee.

If there are any further updates from the Distillery, I will of course be in touch.

With very best wishes from everyone at Ardbeg,





Mickey Heads
Committee Chairman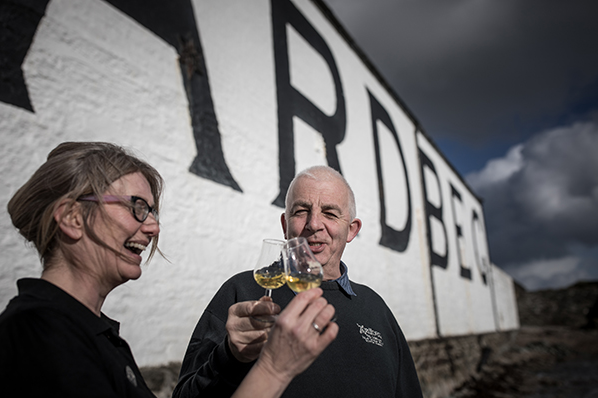 ISLAY, UK - 13 March 2020

BIG BOOTS TO FILL...


Dear Committee Member

It's Jackie here. You may want to take a seat...

It's fallen to me to tell you that Mickey Heads has decided that now is the time to hang up his hydrometer, and step down as our Distillery Manager. They say 13 is an unlucky number, but we at Ardbeg have been extremely lucky to have had Mickey at the helm for 13 successful years.

Mickey's official retirement date isn't until October this year, so we're pleased that he'll be with us to celebrate Ardbeg Day 2020. In truth, Mickey's retirement only comes in part for now, as he'll continue to be your Committee Chairman for the next three years. Having led eight Ardbeg Days to date, we're delighted to have him run the show for three more, dispensing drams to you and your friends and signing your Ardbeg Day bottles with his signature gold pen.

As anybody from Islay will tell you, goodbyes here are often short-lived! Although Mickey is leaving the Distillery, he won't be leaving the island. He plans to spend his time productively, doing some of the things he loves. There are fish to catch, concerts to go to and millions of books to read - all with a dram of Ardbeg close by of course!

No doubt we'll have a hard time filling his shoes, but the search for a new Distillery Manager - arguably the best job in the world - is now well and truly underway. The creation of the ultimate Islay malt stops for no one, so we're excited to ring in a new era soon, and get down to bottling more award-winning Ardbegs!

Mickey is a modest man who won't want a fuss, however there are many grateful friends, colleagues and Ardbeggians around the world that will! So you can rest assured that we are planning something extra-special for Mickey's retirement. I'll be sure to keep you posted over the coming months...

I speak for everyone at the Distillery when I say how much we will miss Mickey - his warmth, his passion for Ardbeg, his hard work and his hard hat and high-vis vest!

So wherever we are, whoever we are, let's raise a glass (of Ardbeg) to Mickey. Thanks for everything Mr Heads!

Slàinte!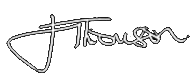 Jackie Thomson
Distillery Visitor Centre Manager

#ardbeg #untamed #smoky #islay #bggg2020 #brewgooder #theshortie #smokyporter
IT'S ALL HANDS TO THE PUMP, AS ARDBEG LAUNCHES A LIMITED EDITION BEER IN SUPPORT OF BREWGOODER'S GLOBAL GATHERING!
All profits from the Scottish whisky maker's first ever beer to be donated to charity supporting clean water projects in Malawi.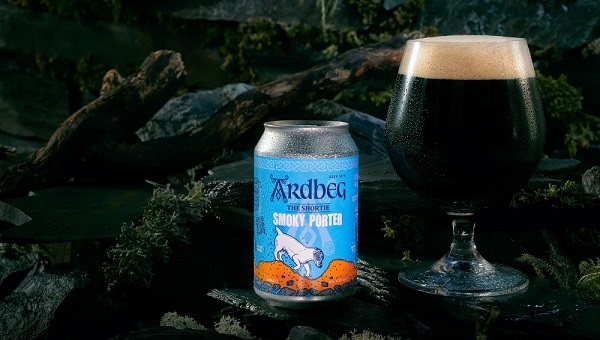 ISLAY, UK - 10 March 2020 - Today, Ardbeg, the world-renowned Islay Distillery, announced the release of its first ever beer - The Shortie Smoky Porter. Named after Ardbeg's beloved canine mascot (Shortie the Jack Russell), this limited edition will be launched in partnership with Brewgooder as part of their Global Gathering campaign.

The brain-child of flatmates Alan McIntyre, Global Brand Manager at Ardbeg, and Alan Mahon, Founder of Brewgooder, the beer has been produced in aid of World Water Day (22 March 2020) with all profits from The Shortie Smoky Porter donated to support clean water projects in Malawi.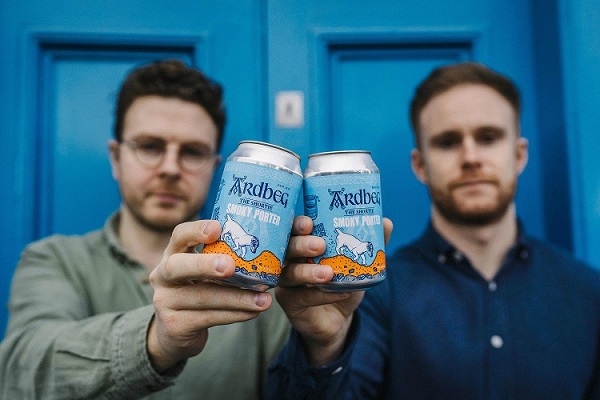 To produce this one-off beer - which will be available exclusively in the UK for a limited time only - Ardbeg has joined forces with Williams Bros. Brewing Co. The Shortie Smoky Porter is made using the same peated malt as the award-winning Ardbeg Ten Years Old whisky, capturing the Distillery's signature smoky character with notes of bitter dark chocolate, malty biscuit, dry espresso coffee and a hint of liquorice.

Ardbeg is the only spirits brand alongside around 250 craft brewers from around the world, all releasing their own unique, one off-brew in aid of the Global Gathering. A coordinated release of the beers will take place over the weekend of World Water Day - March 20th - 22nd 2020.

Dr Bill Lumsden, Ardbeg Director of Distilling, Whisky Creation & Whisky Stocks commented: "We all dig Ardbeg, and no more so than Shortie. So for this life-saving, well-digging clean water brew, it was only fitting that our canine mascot should represent Islay. As with most porters, this beer is smooth and creamy. However our malt has helped make it distinctly smoky - the way we imagine an Ardbeg beer is meant to taste!"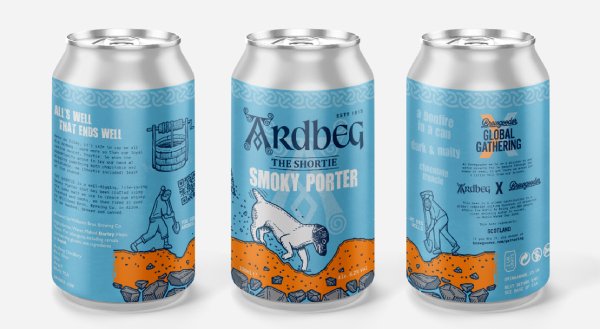 Mickey Heads, Ardbeg Distillery Manager, said: "Not only is this a hugely important cause - that we're delighted to be a part of - but The Shortie Smoky Porter is of course a first for the Distillery. Helping brew a beer may seem like unchartered territory for Ardbeg, but as any whiskyphile worth their malt will tell you, beer and whisky share the same DNA. Just like brewers, we ferment our malt. The only difference being, we hold on to the hops. We hope that Ardbeggians and craft beer lovers alike will enjoy this extra special limited edition."

Alan Mahon, founder of Brewgooder, commented: "This collaboration is particularly special for me. To create an incredible beer that helps empower people's lives is one thing, to do it with one of the world's best whisky brands is another, but to bring it to life with my best friend: there are few things I have been prouder of in my life. I look forward to working with the team at Ardbeg to turn the profits from this beer into life-saving clean water wells for those who need them."

The Shortie Smoky Porter will be available to purchase exclusively in the UK from the Ardbeg Distillery Visitor Centre, online at Ardbeg.com, and in select stores (see below) across the UK from Tuesday 24th March - priced at £14 for a four-pack.


The Shortie Tasting Notes:

ABV: 6.2%

Colour: Dark peat bog brown

Nose: On the nose, Ardbeg's distinctive peat gives rise to more oily notes intermingled with sour cherries, rich coal tar and pine. Ardbeg's malt then begins to reveal itself, with aromas of toasted nuts and sweet lemon and lime.

Taste: On the palate, this smoky porter boasts a typically creamy texture, with bitter dark chocolate, malty biscuit, dry espresso coffee and a hint of liquorice.

Finish: In a finish that lingers long beyond the can, delicious and distinctively smoky notes guide the palate towards the bitter end.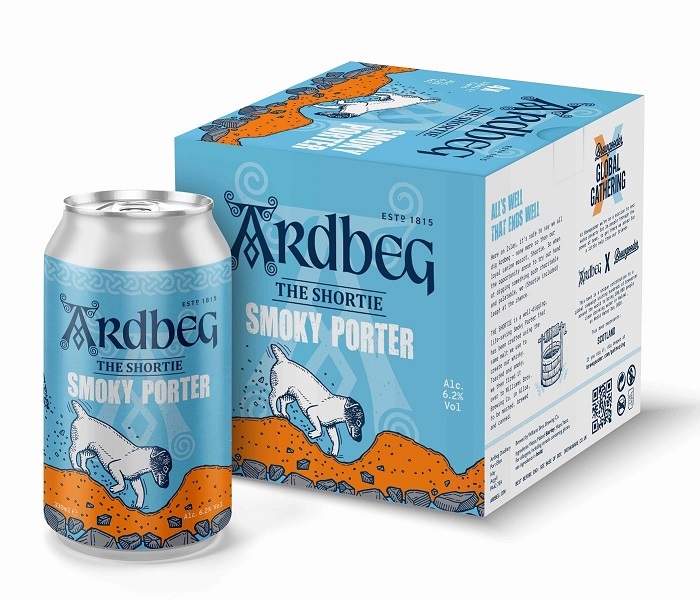 UK STOCKISTS

The Vintage House
42 Old Compton Street
W1D 4LR
London
United Kingdom

Royal Mile Whiskies
379 High Street, The Royal Mile,
EH1 1PW
Edinburgh
United Kingdom

Whiski Rooms Bistro
4, 6 and 7 North Bank Street
EH1 2LP
Edinburgh
United Kingdom

Luvians Bottle Shop
93 Bonnygate
KY15 4LG
Cupar
United Kingdom

Gordon & MacPhail
58-60 South Street
IV30 1JY
Elgin
United Kingdom
Tel: (+44) 1343 545110

The Wee Dram
5 Portland Square
DE45 1HA
Bakewell
United Kingdom

Cambridge Wine Merchants
32 Bridge Street
CB2 1UJ
Cambridge
United Kingdom

The Whisky Exchange Shop @ Covent Garden
2 Bedford Street
WC2E 9HH
London
United Kingdom

Hard To Find Whisky
No. 1 Spencer Street The Jewellery Quarter
B18 6DD
Birmingham
United Kingdom

Robbie's Whisky Merchants
3 Sandgate
KA7 1BG
Ayr
United Kingdom